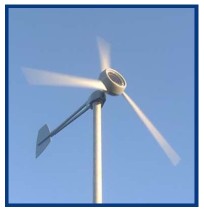 The former Iskra Wind Turbines company has been renamed and is now know as Evance. They are a small wind turbine maker located in the U.K. that was originally founded in 1998. This engineer-owned company has previous experience with larger power generation as they were involved with the development of the Carter Mk II 300 kw turbine. Development of a marketable residential size turbine was kicked off in 1999 when they won a Department of Trade and Industry award. After encouraging results from the testing of one of their machines, they received further funding to develop a production turbine. The AT5-1 made its appearance in 2004.
The previously named AT5-1 now carries the nomenclature Evance R9000. The R9000 is touted as an improved machine over the AT5-1 but there is no specific mention of just what those improvements happen to be. Either way we felt the Iskra AT5-1 was a solid product and our opinion has not changed for the re-branded Evance Iskra R9000.
This turbine is an upwind design with a 17′ 7" rotor diameter. The three blades are a solid core, fiberglass reinforced composite complete with UV and anti-erosion coatings.
The R9000 is distinctly different in appearance from many turbine on the market today. This is due to the axial flux permanent magnet alternator instead of the more commonly used radial flux PMA.
The rotor speed is controlled by using a blade pitch scheme rather than furling. The pitch control is accomplished through a proprietary system called Reactive Pitch™ Control. This is designed to keep the rotor shaft speed below 200 rpm. As a backup to the blade pitch control if things really get out of hand a type of dynamic braking stops the rotor. This is another Evance patented design called ElectroBrake™. I
Tipping the scales at 715 lbs, the R9000 is currently available for either on or off grid applications.
New in 2010 is the R9000's Microgeneration Certification Scheme (MCS) certification. The MSC is essentially a scheme that operates in conjunction with but independently from the Department of Energy and Climate Change (DECC). The DECC is a UK organization that reviews microgeneration technologies. MCS certifies microgeneration products and installers through trial testing.
The MSC requires that a Class II turbine, the R9000, be operational for at least 6 months and log at least 25 hours in winds greater than 15.3 m/s (34.2 mph). Evance says its R9000 exceeded this minimum by operating over 200 hours in wind conditions exceeding 15.3 m/s.
Our Point Of View
Iskra, meaning spark in Czech, has brought a spark of life into the wheezing small wind industry. True enough, there are plenty of Chinese made knock-offs and strange looking machines lurking in dark corners tempting unwary buyers. The problem is, these unknown turbine brands do little more than offer amusement for you and your guests on a windy day. Evance on the other hand has something to offer with its Iskra R9000 turbine.

While Evance has had very limited exposure in the North American market, they have been making marked progress in the UK where there are approximately 500 installations. With the new tax credit being offered in the US for wind turbine installations, oversea companies like Evance are beginning to step up marketing efforts. We can expect to see more competitive pressure put on U.S. companies. Bergey has already responded by teaming up with Lowes Home Improvement stores in selected areas.
The company has set some aggressive, buyer friendly, goals as far as reducing costs and complexity while improving reliability. These are things a shopper should be looking for when considering a purchase. The price tag, while not a giveaway, is lower than comparable European turbines such as the Proven and Eoltec. As far as complexity is concerned, the passive blade pitch control is going to be bit more complex than a furling machine but it is a welcomed complexity. We feel that a properly designed pitch control unit is in a class ahead of the furlers. As for the goal of increased reliability, only time will tell. The first production turbines were deployed about 2005 we would expect to see more reports on their performance and reliability.
The power conversion equipment is located safely on the ground. This would most likely be a Windy Bow inverter or a Magnetek MWI. With the Magnetek you can have the option of a grid tie or battery charging system.
To back it up, there is a 5 year warranty but you will want to carefully read the conditions and follow the prescribed maintenance to keep it intact. This mainly consists of an inspection and greasing every 12 months.
We like the R9000. It is what you might consider a "fresh" turbine. Hasn't been around very long but looks like the design team was thinking. Currently reliability and performance data is fairly sparse but we hope that change with more US installations. There are starting to be more dealers listed, even a company with a main business line of selling outdoor wood boilers for home heating. If you are considering a Proven 11 or Eoltec Scirocco, the R9000 would be a good alternative.
Pros
Cons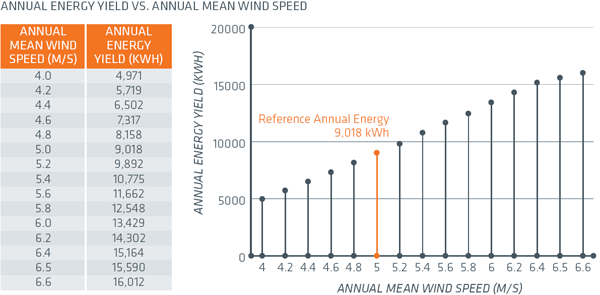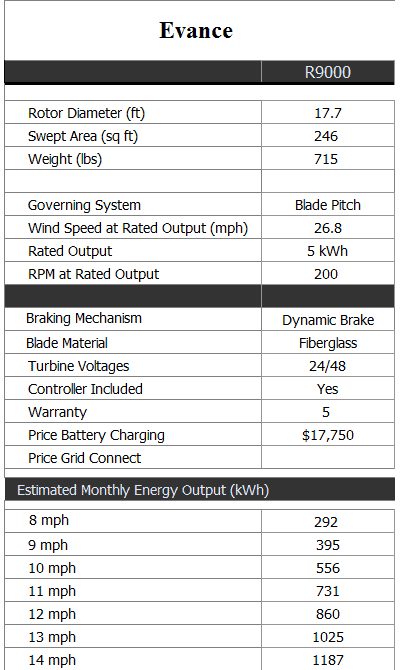 What Other Visitors Have Said
Click below to see contributions from other visitors to this page…
E Andrews Not rated yet
installed 2007 went well for a few years since then keeps stopping when wind gets up . Installer has looked at it on numerous occasions but now seems to …
Julian Schad, Perthshire Scotland Not rated yet
Bought Iskra AT 5 back in Nov 2007. Problems for about five months, turned out transformer from electricity supplier was faulty. They replaced free of …
Unfair comparison Not rated yet
I think its wrong to compare the Evance with Proven and Eoltec turbines, as is done above several times. From all the installations near me, I have …
Return to Wind Turbine Manufacturers From Evance Wind Turbines