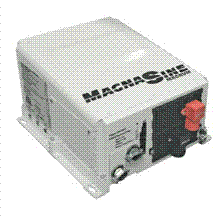 Magnum inverters (Magnum Energy Inc.) is a U.S. based company that has recently been gaining traction in the off-grid inverter market. They got their start in 2002 initially focusing on building inverters for mobile applications. Today, with the current product line of both modified sine wave (MSW) and pure sine wave (PSW) inverters, they have emerged as a serious contender in the off-grid market against the more established companies Outback and Xantrex.
The beginning story of Magnum Energy is similar to that of Outback Power Technologies, where the company founders date back to to the early days of Trace Engineering. Trace Engineering was formed in 1984 with the headquarters located in Arlington, Washington. After establishing the Trace series of inverters as a capable product the owners decided to sell out to an investment group in 1998. This eventually lead to the company merging with Xantrex Technology in 2000. Xantrex was expanding and growing through consolidation and along with Trace Engineering they also bought Heart Interface and the PROsine inverter manufacturer, Statpower.
As Xantrex began to expand, many of the original Trace Engineer owners and employees began to leave. This exodus of experience created a workforce of people who were familiar with both the business and engineering end of the energy conversion field. As a result now we have Outback Energy, Midnite Solar and Magnum Energy. Unfortunately Outback Energy come upon hard times financially and sold out to the investment group, Alpha Technologies, in October 2010. Magnum Energy is still privately held by the original owners/founders.
The quiet start for Magnum has now turned into a thriving business model. Since the Magnum Energy founders were formerly associated with Trace during the Xantrex buyout of Trace Engineering, non-competitive clauses limited their focus to the mobile inverter market. Today they have successfully captured 95% of the Original Equipment Manufacturer (OEM) RV market and are on their way to becoming the major supplier in the marine OEM market. Their mobile inverter products are available in both modified and pure sine wave models.
The last few years has seen the emergence of Magnum products in the residential off grid field. They are also growing in the international export arena with a field office in Spain, one of the European leaders in renewable energy implementation. Breaking into the export market should be relatively easy for Magnum given the wide product line ranging from mobile to stationary and modified to pure sine wave inverters.
So what do we see that sets Magnum inverters apart from the competition? Mainly an enthusiastic young company with what appears to be an excellent product. They haven't been around long enough to get stale. We also find the vertically integrated business model to be a positive point. The circuit boards inside the Magnum products are manufactured in-house. Quality control and rapid response to problems are much easier to handle when the same roof covers the core component manufacturing, assembly and the customer service department. If you have a technical question or need troubleshooting, you end up talking to a person that most likely has some job in the actual design or manufacturing the unit in question.
Sure, someday Magnum Energy may be swallowed up by a larger company that has only shareholder interest in mind. Customer service and tech support may get exported into less capable hands. Any number of things may happen but today we see Magnum Energy products as a top pick for anyone in the mobile or off grid energy market.
The Inverters
MODIFIED SINE WAVE MOBILE SERIES MAGNUM INVERTERS FOR RV AND MARINE APPLICATIONS
Model
MM 612
MM1212
ME2012
ME2512/
ME3112
Voltage
12 VDC
12 VDC
12 VDC
12 VDC
12 VDC
Continuous Output (watts)
600 W
1200 W
2000 W
2500 W
3100 W
Charger Output Amps (DC)
N/A
70 A
100 A
120 A
160 A
MODIFIED SINE WAVE OFF GRID INVERTER SERIES
Model
MM612AE
MM1512AE
MM1524AE
Voltage
12 VDC
12 VDC
24 VDC
Continuous Output
(watts)
1200 Watts
1500 Watts
1500 Watts
Charger Output Amps (DC)
30 Amps (DC)
70 Amps (DC)
35 Amps (DC)
Model
RD2212
RD1824
RD2824
RD3924
Voltage
12 VDC
24 VDC
24 VDC
24 VDC
Continuous Output
(watts)
2200 Watts
1800 Watts
2800 Watts
3900 Watts
Charger Output Amps (DC)
110 Amps (DC)
50 Amps (DC)
80 Amps (DC)
105 Amps (DC)
The mobile MM series is a low power output 12 volt unit that comes with either a 600 or 1200 watt output while the MM-AE is the non-mobile equivalent. The mobile ME series is for 12 or 24 volt systems and is available with 2000, 2500 and 3100 watt output. The RD Magnum Inverters are similar to the mobile ME inverters but without the neutral bonding relay. They are available in 12 and 24 volt models with output of 1800, 2200, 2800 and 3900 watts. Though we are not a fan of modified sine wave inverters for most full fledged home applications, they do have their place as a low cost option if the user is willing to accept the hassles and inefficiencies of the MSW.
PURE SINE WAVE MOBILE SERIES INVERTER FOR RV AND MARINE APPLICATIONS
Model
MMS1012
MMS1012-G
Voltage
12 VDC
24 VDC
Continuous Output
(watts)
1000 W
1000 W
Charger Output Amps (DC)
50 A
50 A


* The MMS1012 is designed to be hardwired where the MMS1012-G has a GFCI outlet and is corded.


PURE SINE WAVE MOBILE OR OFF GRID INVERTER SERIES
Model
MS2000
MS2012
MS2812
MS4024
Voltage
12 VDC
24 VDC
24 VDC
24 VDC
Continuous Output Watts
2000 W
2000 W
2800 W
4000 W
Charger Output Amps (DC)
100 A
100 A
125 A
105 A
PURE SINE WAVE OFF GRID INVERTER SERIES
Model
MS4024-PAE
MS4448-PAE
Voltage
12 VDC
24 VDC
Continuous Output Watts
2200 W
1800 W
Charger Output Amps (DC)
110 A
50 A
The Magnum MS-PAE series inverter has a couple of distinct advantages over their closest competitor, the highly rated Outback VFX inverters.
The first advantage is with AC output voltage. The Magnum MS-PAE inverter has the output capability of both 120 volts and 240 volts from one inverter without stacking or incorporating external transformers. This could be a major selling point for anyone requiring the higher voltage.
Deep well pumping is the most compelling use for this feature. If your location is off the grid for electricity, there is a high probability it is also drawing water from an on-site source such as a well. Low powered pumps can be used in shallow wells but pumps with between 1/2 and 3/4 horsepower is required for a deep well. Typically a submersible pump of this size will need a 240 volt power source.
The ability to have 240 volts from the inverter without added transformers may be convenient but we wonder what it adds to the unit in terms of cost. If you never plan on using the higher voltage, you are paying for equipment that isn't needed. Comparing the cost of Magnum and Outback products seem to back this up. As an example we find a Magnum MS4448 inverter roughly equivalent in price to an Outback VFR 3648 with the Outback PSX-240 Auto Transformer. To be fair with the comparison, we are using discounted prices that are available from various sources and not the MSRP figures. The Magnum inverter also has a higher rated output and more battery charging capability.
The second advantage of the Magnum MS-PAE series inverter is in the built-in battery charger. The Magnum MS-PAE has a higher maximum AC charge rate over the Outback VFX inverter. This is a nice feature since it would cut down on overall generator runtime.
CONTINUOUS CHARGER OUTPUT
24 Volt Models
Outback VFX 3524
85 Amps (DC)
Magnum MS4024 PAE
105 Amps (DC)
Xantrex XW4024
85 Amps (DC)
48 Volt Models
Outback VFX 3648
45 Amps (DC)
Magnum MS4448 PAE
60 Amps (DC)
Xantrex XW4548
85 Amps (DC)
** The Xantrex XW inverters also have 120/240 volt output like the Magnum MS-PAE as well as higher battery charging output. The Xantrex inverters carry a significantly higher price tag.